CMHA BC's 2017 public engagement survey to inform decision-makers on what British Columbians see as the best ways to intervene earlier for mental health and substance use problems.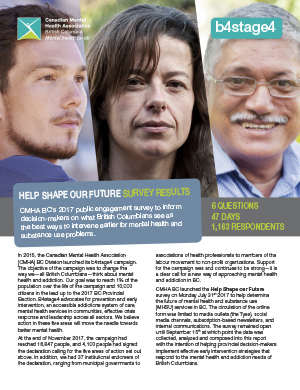 CMHA BC launched the Help Shape our Future survey on Monday July 31, 2017 to help determine the future of mental health and substance use (MHSU) services in BC. The survey asked respondents about their experiences accessing mental health or substance use services at a time of crisis.
Of the 1,163 survey respondents, more than half took the time to tell us a personal story about themselves or a family member in response to questions about what services were helpful and what services could have been helpful to prevent the escalation of symptoms.
More than any one particular service, respondents identified consistent, coordinated care from in-patient services to psychological treatment to community-based support as the most helpful intervention in response to a crisis.
The survey remained open until September 15 at which point the data was collected, analyzed and composed into this report with the intention of helping provincial decision-makers implement effective early intervention strategies that respond to the mental health and addiction needs of British Columbians.