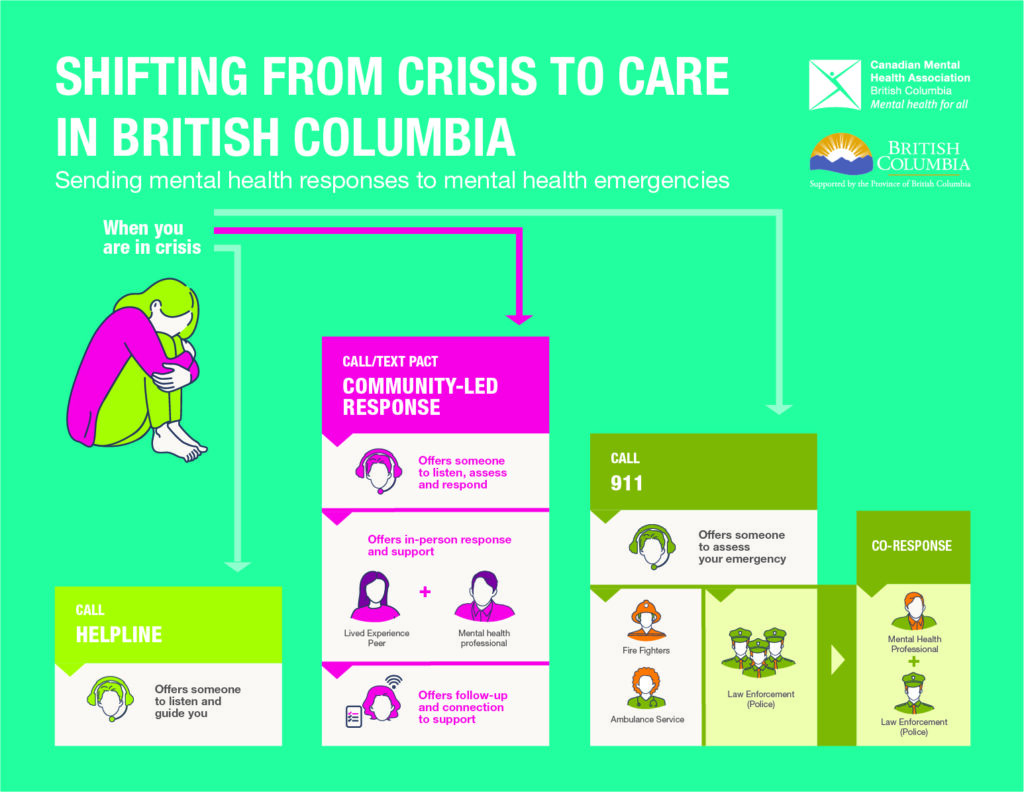 Peer Assisted Care Teams (PACT) are here to help community members find the support

they need

during a crisis. 
CMHA BC is leading and advocating for a mobile civilian response to mental health crisis calls known as PACT "Peer Assisted Care Teams." The aim of a PACT is to provide an alternative to police and shift BC's crisis care to a community-led, client-centered, trauma-informed response centered on the mental health and well-being of the affected individual, their family, and their community.
A Peer Assisted Care Team is led by a client-centered organization in an identified local community area. Find a PACT in your community. 
Teams
include 2 trained individuals:
(1) a trained peer (civilian/community member) with lived and living experience/expertise in mental health and/or substance use challenges and
(2) a mental health professional (RCC, social workers, and nurses)
Teams are employees of community organizations, receive 80-100 hours of training and both offer culturally safe and trauma-informed responses to people experiencing a mental health crisis. 
Working as a Peer Assisted Care Team member has been beyond rewarding. When our team receives a call from someone who is struggling, whether that be from feelings of anxiety and depression to feelings of hopelessness, I am confident that I can share my personal life experience to help them overcome their challenges. Our team works collaboratively to build trust and understanding with clients in distress, with the ultimate goal of each client walking away with the resources and support they need. I am always grateful to hear success stories and positive feedback from clients: it reminds me just how important our support is to the community. –Peer Support Worker, North Shore PACT
We are seeking to add 4 more communities to the PACT Provincial network
By 2024, The Province of BC has committed to funding 10 community-led teams administered by CMHA BC and 2 teams led by Indigenous-led organizations. 
You can currently find PACT teams operational in North West Vancouver, New Westminster and Victoria. 
In Spring of 2023, CMHA BC researched communities in alignment with the Community Readiness Checklist  to support the Province of BC's selection of the next three communities for expansion. The communities chosen were: Kamloops, Prince George and Comox Valley (the City of Courtenay, Town of Comox and Village of Cumberland). 
Work is underway to add 4 more communities to the PACT Provincial network, in partnership with the Province of BC. 
We know when a person is experiencing a mental health or substance use crisis, what they need and want, is the support from someone who knows what they are going through. That is the heart of the Peer Assisted Care Team (PACT) model. We are very excited to lead this transformation of crisis care with partners in British Columbia. Today marks a bold commitment by this government to support mental health for all. A community-led care response, informed by people with lived and living experience, operated by local organizations is part of the transformation we need. – Jonathan Morris, CEO, Canadian Mental Health Association, BC
Want to stay updated on news and announcements about Peer Assisted Care Teams (PACT)? Subscribe today.