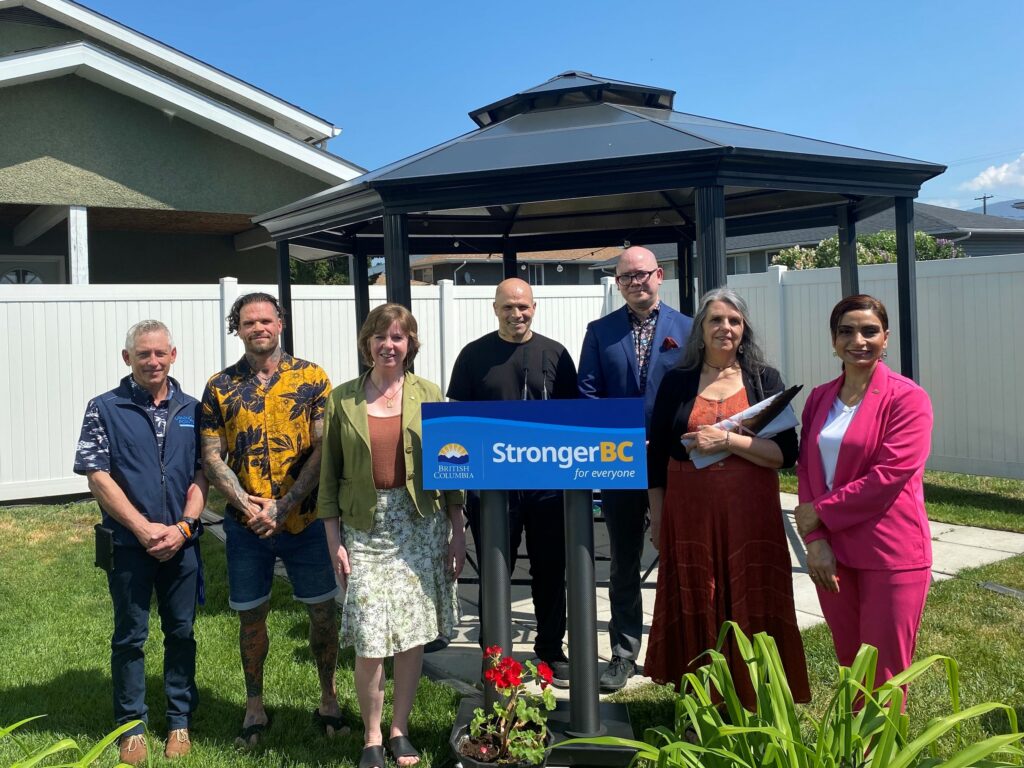 Centres selected to participate in the pilot are Turning Points Collaborative Society, Connective, ASK Wellness Society, Penticton Recovery Resource Society and 333 Recovery Homes
VERNON, BC – (May 19, 2023): People recovering from mental-health and addiction challenges will benefit from a new pilot program that integrates employment services within treatment and recovery centres.
"We all want people going through addiction treatment to have the care and support they need to recover," said Sheila Malcolmson, Minister of Social Development and Poverty Reduction. "Integrating employment services into some publicly funded treatment beds will help people get the jobs and connections they need to build a better life."
Through a $4.9-million grant, the Canadian Mental Health Association – BC Division (CMHA BC), will provide people undergoing treatment at bed-based recovery centres access to employment services as part of their recovery process, gaining the skills and support needed to enter and thrive in the labour market. The evidence-based program will help people gently transition back into their communities, while opening doors to meaningful employment, economic security and independence.
"The recovery journey does not end once you leave a recovery centre; this is why it's important to support life and employment skills during treatment, which we know can help strengthen purpose and meaning in a person's life," said Jonny Morris, CEO, Canadian Mental Health Association – BC Division. "We hear from clients about how employment can provide a powerful remedy to support self-determination and dignity. Pairing people with employment supports is investing in wraparound recovery that benefits society as a whole."
The pilot program, which began this spring and will run for three years, will provide enhanced employment services, including pre-employment skills, job search and maintenance support, as well as a range of mental-health and substance-use interventions for people at five treatment centres. The program will also highlight best practices for integrated evidence-based employment services, which will help guide improvements in provincial policy and programming for people with complex-care needs.
The five pilot sites are in Nanaimo, Vernon, Kamloops, Penticton and Prince Rupert.
"We are thrilled to see investment into these integral services that support recovery. Often, people walk through our doors where they begin their recovery journey, taking their first steps toward living a healthy, substance-free life," said Brad Houghton, executive director of addiction services, Turning Points Collaborative Society. "We are looking forward to offering employment services as part of the recovery process."
Enhancing supports for people living with mental-health and addiction challenges is an integral part of A Pathway to Hope, B.C.'s roadmap for building a comprehensive system of mental-health and addictions care for British Columbians.
Quotes:
Carla Qualtrough, federal Minister of Employment, Workforce Development and Disability Inclusion –
"Through our federal government's Labour Market Development Agreement with British Columbia, we are providing vital funding to programs that help improve the lives of Canadians. Integrating employment services into the recovery process for people with addiction and mental-health challenges will make it easier for them to get the skills they need to support themselves and their communities."
Jennifer Whiteside, B.C. Minister of Mental Health and Addictions –
"When people make the courageous decision to reach out for help, we need services to meet them. CMHA's provincially funded bed-based recovery services are already making a difference for hundreds of people struggling with addictions. This new pilot program is an important addition that will help people learn invaluable life skills while they are in treatment and recovery that will help them succeed throughout their recovery journey and beyond."
Harwinder Sandhu, MLA for Vernon-Monashee –
"It is essential that people get the help they need to rebuild their lives with dignity and purpose. We know that this is what meaningful work opportunities can provide. This pilot program will make a difference for people struggling with mental health and addictions in our communities and for their families."
Quick Facts:
The centres selected to participate in the pilot are Turning Points Collaborative Society in Vernon (eight beds), Connective in Nanaimo (15 beds), ASK Wellness Society in Kamloops (12 beds), Penticton Recovery Resource Society in Penticton (five beds) and 333 Recovery Homes in Prince Rupert (six beds).
The $4.9-million provincial grant to the Canadian Mental Health Association – BC Division comes from the Canada-British Columbia Labour Market Development Agreement.
Under the agreement, the Province receives more than $300 million each year to fund employment services and supports, including those provided through the 102 WorkBC centres throughout B.C.
Learn More:
Canadian Mental Health Association – BC Division: https://bc.cmha.ca/ 
A Pathway to Hope, government's vision for mental-health and addiction care in B.C.: https://news.gov.bc.ca/releases/2021MMHA0049-001787 
Connect with the Province of B.C. at: news.gov.bc.ca/connect
Contact:
CMHA BC Media
media@cmha.bc.ca
604-353-8159
Ministry of Social Development and Poverty
Reduction
Media Relations
250-896-0493