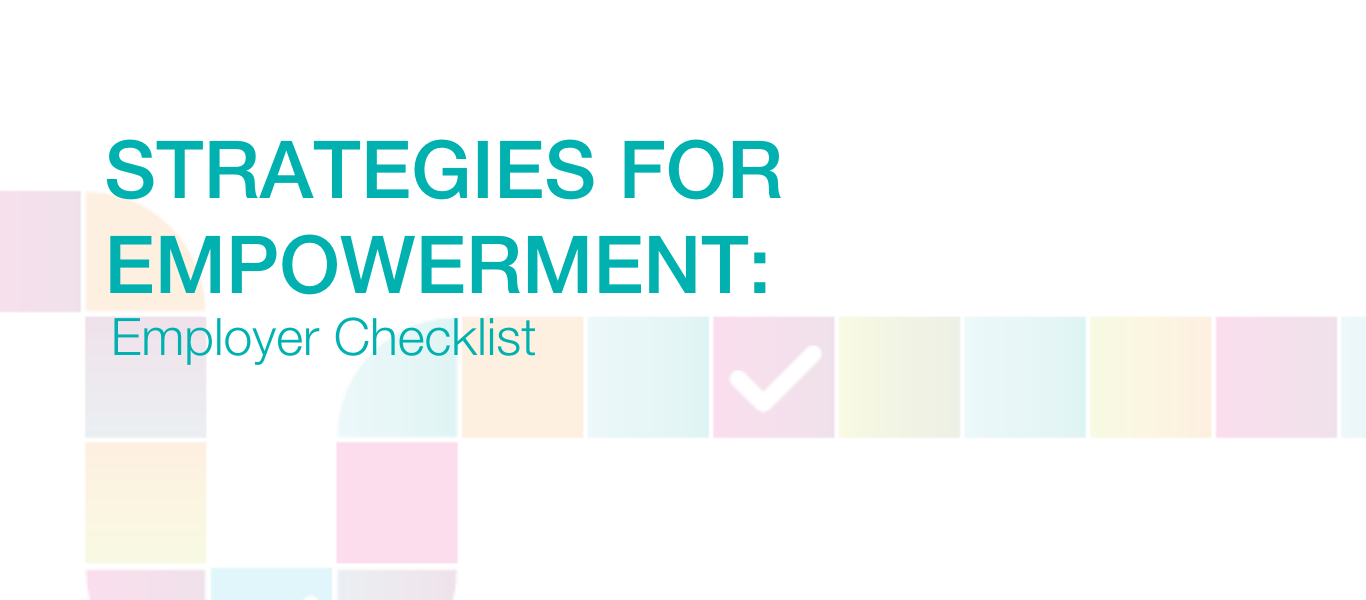 The Employer Checklist supports organizations in identifying and implementing strategies that address barriers to peer participation and empowerment in the workplace. 
Though it can be used as a standalone tool, this checklist was developed to be used in tandem with the Power Assessment Framework. Organizations can match low-scoring power indicators from their completion of the Power Assessment Framework to strategies in the Employer Checklist that help establish more equal partnerships between peers and their employers.  
Strategies in the checklist give employers actionable ideas to empower peers through wages, compensation and benefits, policies and internal processes, job descriptions and duties, and workplace culture. The checklist also includes links to additional resources that can support employers in creating workplace conditions that provide equal opportunities for peers to thrive as their non-peer colleagues. 
Examples of Strategies
Wages, Compensation and Benefits: Fair, equitable payment – Wages, salaries, honorarium, etc. for peers will vary from person to person and from job to job; however, how much and when payment is provided should be agreed to before work begins. This will ensure expectations are met and bureaucratic hurdles are overcome. Peers should be compensated for all of their work and not be expected to volunteer their time, which includes compensation for time spent on paperwork, emails and phone calls. 
Policies and Process: Provide options for everything – Ask peers what works best for them, then individualize your process to accommodate those needs and wants. If disability-related, document supports within an accommodation plan that is regularly reviewed and updated to respond to changes in the peer worker's health and work environment.
Job Description and Duties:  Structure advancement opportunities for peer workers – There needs to be more opportunities and a variety of roles for peer workers. While some peers are content providing support to other peers, many others want to build on their support experience to contribute to organizations and systems differently. Employers should provide clarity about long-term possibilities and support their development and goals 
Workplace Culture: Process over outcomes – The outcomes of a project or program are null and void if the process is harmful, tokenizing or oppressive. Employers should prioritize the employment relationship, provide support, share power and strive toward meaningful co-production.